---
Page content
The importance of crypto for Europe
Reading Time: 4:30 Minutes

In 2008, the release of Satoshi Nakamoto's Bitcoin white paper marked the beginning of a revolution in finance with the concept of a global currency that isn't controlled by any central authority. Now, 15 years later, cryptocurrencies have moved from being a niche interest to real life use cases.

In Europe, the crypto landscape is not just an emerging market but a pivotal element that could shape the future of finance on the continent, opening a new frontier for new financial markets.
Status Quo of crypto in Europe
As of 2023, Europe will have a significant portion of the global cryptocurrency market. One of the top countries with the highest cryptocurrency adoption is Switzerland, according to Statista's Global Consumer Survey. This doesn't come as a surprise because Switzerland is one of the leading European nations in blockchain and crypto innovations.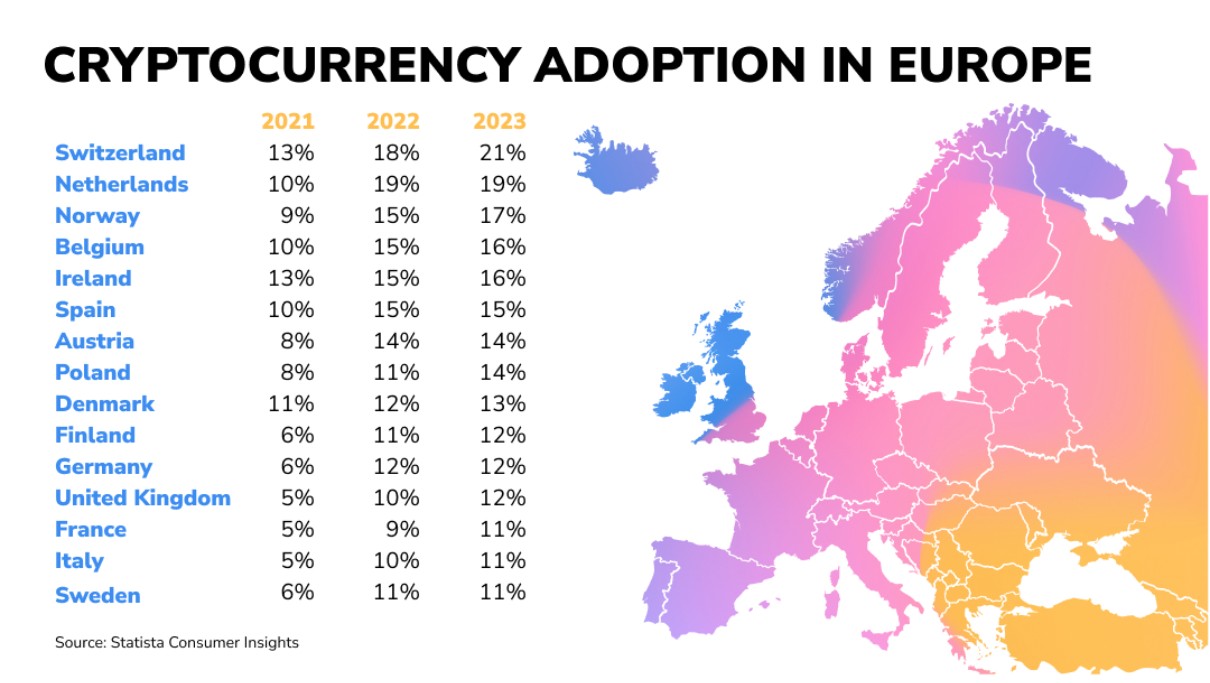 A growing adoption rate is a testament to the increasing public interest and trust in crypto markets, which opens the doors for European crypto exchanges to launch their platforms successfully. One of the most well-known crypto exchanges in Europe is BitPanda, which offers a wide range of cryptocurrencies as well as investment products like crypto indices and ETFs.

The biggest US crypto exchanges are also present in Europe: Coinbase, Binance, and Kraken, just to name a few. This only goes to prove that Europe is an important market for cryptocurrency and digital asset adoption.
What's driving this crypto adoption in Europe? 
Here are a few contributing factors:
The growth of decentralized finance (DeFi), is driven by blockchain technology and doesn't have a single organisation in charge of it. Also, in the last few years, non-fungible tokens (NFTs), which are digital assets that can be used to represent ownership of unique items, have made cryptocurrencies mainstream.

Another factor that helped cryptocurrencies gain mainstream attention was when existing fintech companies decided to include cryptocurrencies in their features. 

One of the biggest examples was Revolut, the leading fintech app from Europe, which introduced crypto trading features on their app where users could buy and sell cryptocurrencies, democratizing access to cryptocurrencies for their ever-growing user base and for people that were not necessarily familiar with crypto to date. 

These features not only bolstered Revolut's position as an innovative fintech but also integrated cryptocurrencies into the European financial ecosystem.
The economic impact of crypto on Europe's job creation
Cryptocurrencies are more than just digital assets; they are catalysts for economic change. In Europe, the crypto markets have contributed to job creation in everything from tech roles (blockchain and smart contract developers, crypto security analysts) to financial roles (financial analysis, compliance officers) and even marketing for crypto companies (crypto journalists and PR agencies).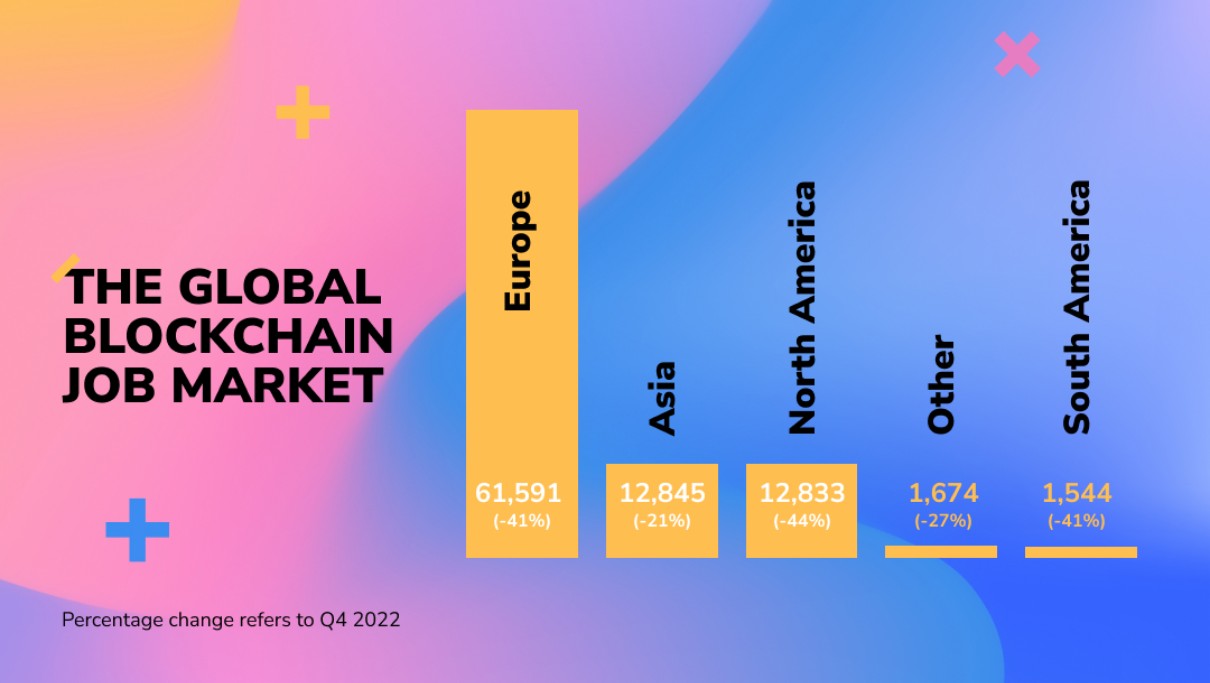 According to LinkedIn, in Q2 2023, Europe had 61,591 crypto jobs compared to North America's 12,833. Even though there has been a 39% decline in total crypto jobs in Europe since the end of 2022, the region still stays at the top of the list of crypto jobs.
EU crypto regulation
With the growth of crypto adoption, policy makers and regulatory bodies started to put in place a stable, secure, and transparent financial sector to safeguard consumer interests and financial companies.

With that in mind, the European Union has been proactive in regulating cryptocurrencies through the Markets in Crypto Assets (MiCA) framework, which just became official in April 2023. In simple terms, MiCA is a regulatory framework designed to standardize the rules and regulations for crypto assets in the EU.

It is still too early to measure the impact of MiCA regulations, but experts predict that they will shape the investment landscape and influence the types of crypto projects and crypto companies and startups wanting to start their operations in Europe. For instance, the MiCA framework has provisions that encourage transparency and accountability, making it easier for institutional investors to enter the EU crypto regulation market. "With MiCA Regulation Europe is the first jurisdiction that creates a safe space for entrepreneurs, companies, and consumers to invent, build and invest. Now it's about the industry to create services and assets that relate to the real world for creation of long term value," says Peter Grosskopf, CTO / Managing Director at Ultimate (by Unstoppable Finance).
Another important aspect of the MiCA law will be protecting non-institutional investors, meaning individuals that want to invest in crypto, because it also sets rules for how crypto exchanges should keep trading fair and prices transparent. These potential cryptocurrency investors trust and feel confident about trading cryptocurrencies on these platforms.
The future of crypto in Europe
The future of cryptocurrency in Europe looks promising, with predictions indicating continued growth and crypto trading.

However, challenges like regulatory scrutiny and market volatility remain. Europe's role in the global crypto ecosystem is likely to be significant, given its balanced approach to crypto asset regulation and fintech innovation.

With all that, the importance of crypto for Europe cannot be overstated. It holds the potential to totally transform not just the financial sector but also the way crypto and fintech businesses operate, creating a wide range of new jobs and benefiting not only companies but also individual investors.