---
Page content
Favorite spots in Berlin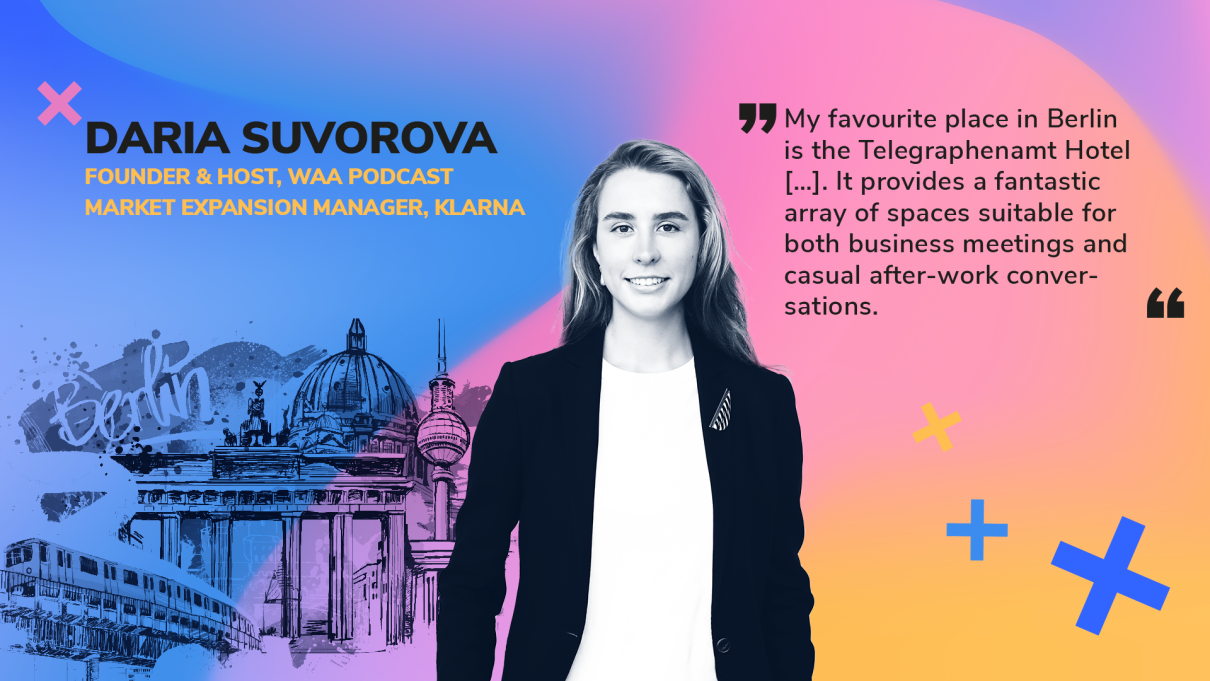 Daria Suvorova is the Founder and Host of the Women Authors of Achievement (WAA) Podcast, where she features stories of successful women from all walks of life. Additionally, she is a Global Consumer Communications Manager at Klarna, Europe's highest valued private fintech company, where she is responsible for building brand awareness in the new markets. She is also a Visiting Lecturer at Popakademie, an academic institution for musicians and music industry professionals. Her lecture on the "Power of Podcasting" covers the latest trends in the industry and explains why podcasting represents a massive opportunity for creators.
What does working in fintech mean to you?
According to studies, women receive, on average, nearly 60 percent less pension than men. This significant disparity often leaves them with a substantial financial shortfall during retirement, lacking several hundred euros. For me, FinTech represents an industry that is at the forefront of developing tools and resources that empower women, promoting their financial well-being and independence. By addressing these inequalities, we can help protect women from the risk of poverty during their post-retirement years.
What is the major advantage of being situated in Berlin?
The city's historical relevance and continuous development attract a diverse range of industries, making it a magnet for talented people. This environment of creativity, innovation and strong support system was instrumental in starting my podcast, WAA Podcast, which has gained industry-wide recognition here in Berlin.

The city encourages individuals to think outside the box and push boundaries, which is invaluable for anyone seeking to make an impact.

Lastly, Berlin's strong international connections provide access to networks in other major cities such as London and New York. This global connectivity is particularly advantageous for someone like me, who values the ability to connect with people and opportunities on a global scale.
What's your favorite place in Berlin?
My favorite place in Berlin is the Telegraphenamt Hotel. It has an incredibly convenient central location, easy to reach for everyone in the city. The hotel offers a fantastic range of spaces suitable for both business meetings and casual after-work conversations. What's even more exciting is that they have something very special in store, set to open on September 1st. Make sure to keep an eye out for it!