---
Page content
Favorite spots in Berlin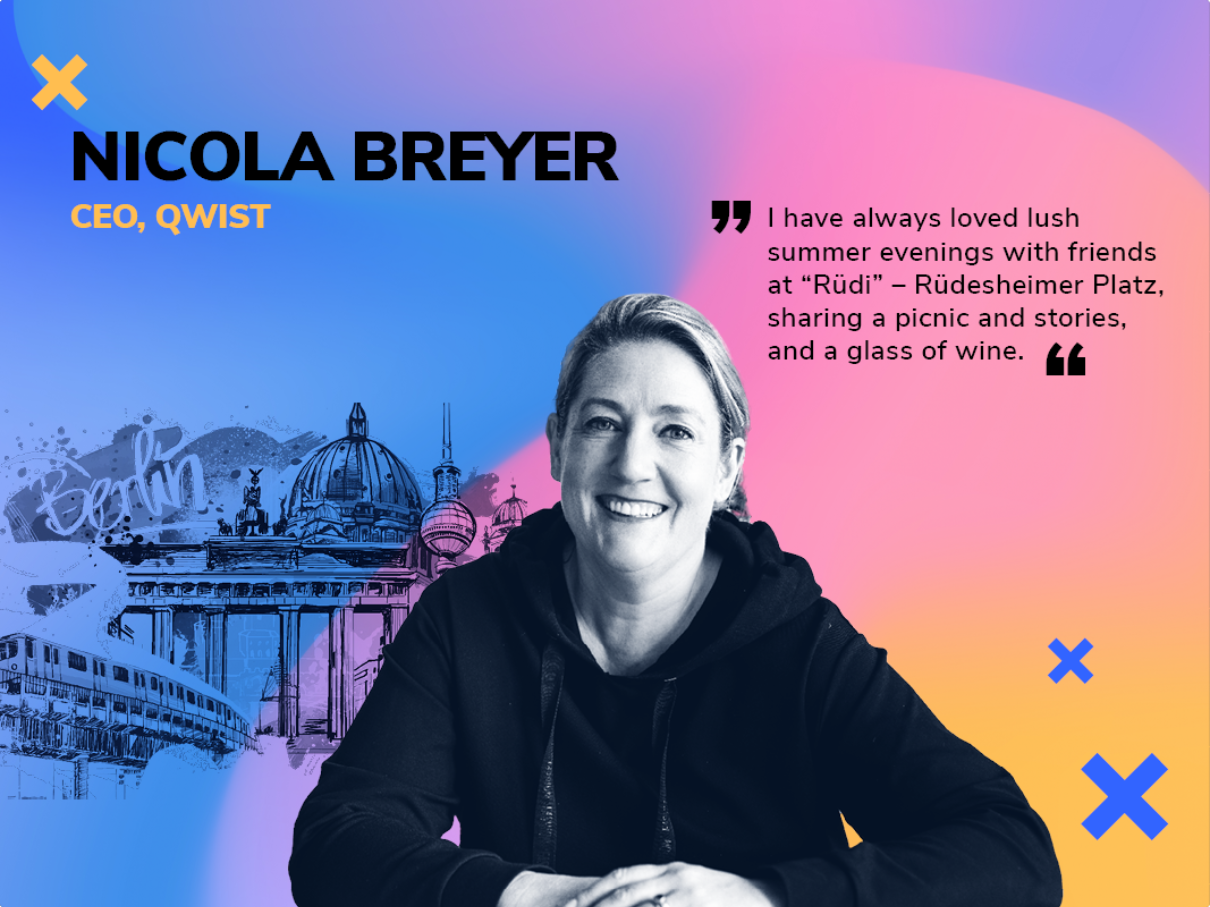 Nicola Breyer is currently CEO and Managing Director at Qwist (formerly finleap connect), the leading independent European Open Banking platform provider, with key markets in DACH, Spain and Portugal. Prior to this, she was Chief Growth Officer and Managing Director at OptioPay, an Open Banking Fin-/AdTech company, as well as in a leading growth and innovation role at PayPal in Europe. Nicola fundamentally believes that we need to use technology to democratise financial services. Open Data and data authorship, distributed data models and innovative embedded finance models are one way to move towards a more equitable future.
What sets fintech apart from other sectors?
Fintech to me has a particular relevance in our economy: Money is at the heart of everything we do. We engage in transactions, we save, we invest, we measure, we report. Technology is particularly relevant in the financial sector. In the 1990s, banks realized that technology would fundamentally change the way their business could and should operate. These were the days of mainframe computers, IBM servers, and transaction processing becoming increasingly electronic. However, banks never truly looked at the benefits technology could bring to its customer base after that initial phase of innovation. Access to many products and services were not extended to new demographics and no meaningful business models were invented during this period. Young and innovative companies jumped at this opportunity, creating businesses, which today represent a meaningful force of innovation and change in the Financial Services Industry - across all customer segments: B2B, B2C, B2B2C.

What sets fintech apart, in my opinion, is the need to collaborate with regulators, with banks or insurances, with other tech companies. We are also in an inherently global industry, but with local or regional regulation. Money, in its traditional and modern digital form, flows in different shapes and sizes across all customer segments and borders. We also take on a significant responsibility for the trust all our customers and the ecosystem put in us - we are - for good reason, regulated. Fintech has become a grown-up part of the tech ecosystem, which is continuously evolving. Our markets grow, plateau, change, and grow again. We are in a perpetual cycle of change and innovation. Last but most certainly not least - fintech attracts wonderful people, with inquisitive minds, and the strong belief that what we create will help improve the position of underserved segments in the market, eradicate inefficiencies, and create more transparency, in a regulated and secure environment.
Why is your company located in Berlin?
Berlin has long been the epicenter for particularly ambitious and smart tech companies, particularly in the fintech sector. One particular leader in this field was and is Ramin Niroumand and the team who founded finleap (now Qwist). Qwist has been firmly at the heart of the fintech ecosystem and a key driver of its establishment in Berlin. As finleap connect has evolved from this ecosystem, being based in Berlin was a logical next step. Today, we are here as it is fantastic to collaborate with other fintech leaders. VCs and M&A have recognized the importance of being here, and there is fantastic talent we hope to work with. Of course, having been born in Berlin and simply having waited for the city to up in relevance in industry and digital innovation, seeing this validated by conferences, such as FIBE being established, but also the activity of publications such as Sifted, Payment & Banking and others, is a great testament to the progress the city has made.
What's your favorite place in Berlin?
The immediate answer to this question is very easy: My parents' house at Nikolassee, in the very South West of Berlin. The green, leafy streets, the garden, and of course even more the feeling of belonging and "home" is hard to beat. A more commercial or public place is hard to pick, but I have always loved lush summer evenings with friends at "Rüdi" – Rüdesheimer Platz, sharing a picnic, stories, and a glass of wine.